Owner of the NFT is invited to real estate blockchain and Metaverse projects. Part of the income will go to the charity project for restaurants and artists.
Zweichain (ZCLB:ZWC)
Zweispace started a NFT minting and sales business, specialized in real estate, using patented real estate blockchain or Zweichain. Virtual coworking space and accelerator, and apparel shops with fitting rooms before purchasing with crypto.
In its dual property rental operation, realtor partners will play traditional realtor for physical property, and ZWEISPACE will play metaverse realtor operation, using blockchain, smartcontract, AI, 3D or metaverse.
To avoid the inherent rights and IP issues of NFTs, Zweispace manages digital creatives in its proprietary private system using private blockchain. Minted NFT creatives contain low resolution images with additional features.
The rotating version -> https://en.zweispace.co.jp/zweinote-tokyopresi-rotating-nft-by-zweichain-real-estate-blockchain/
Apparel shops in Metaverse with fitting rooms will enable users to try before purchasing real clothes. The part of the profit will go to the building owner, in tokens.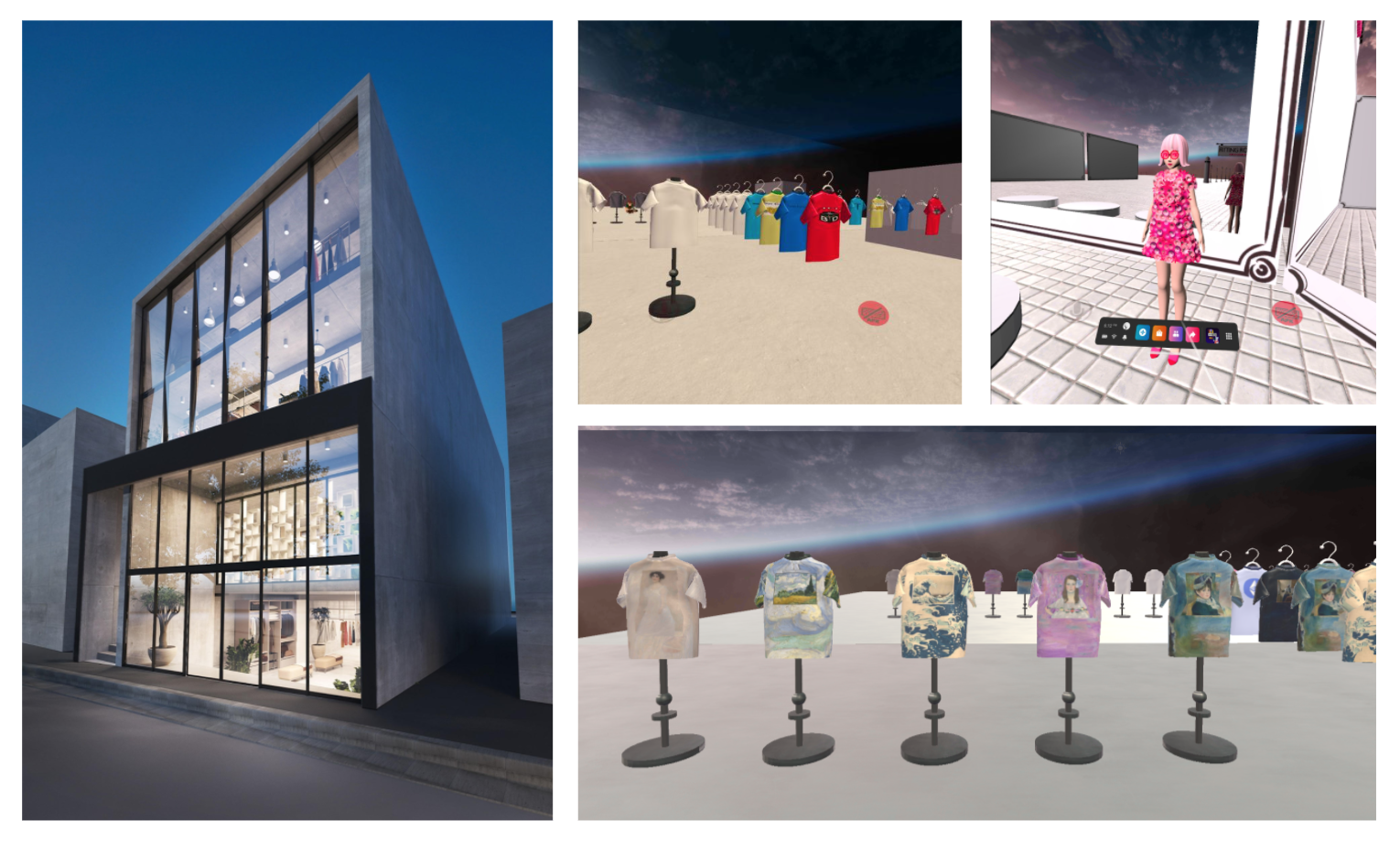 Zweispace owns multiple patents around real estate blockchain, and won the Plug and Play best award in proptech at the 2020 summer summit. With the network of entrepreneurs in proptech and construction tech, not just apparel brands in Shibuya, Harajuku, and Omotesando, Zweispace will invite the best and innovative startups to the acceleration office.
Founder and CEO of Zweispace, Hayato Kameta, a certified international investment analyst, was a director at the president office of Softbank group. With his experience of overseeing growth of internet industries around the world, Zweispace will provide extraordinary tips to prospective startups and entrepreneurs, not just offering the booster to list in zweiclub.com, a utility token exchange.
ZVST is a utility token for the Metaverse platform operated by Zweispace.
ZVST is minted on the Zweichain public chain, using ZSP standard. It can be transferred using commonly used decentralized p2p wallets. Also, it is registered and transferable on centralized wallet, https://wallet.zweicoin.com along with existing utility token, Namazu Token, and Legal Token.
Zweiclub is a utility token club and exchange currently considering listing utility tokens in three categories; SDGs token, new industry token, and club tokens. Zweiclub token will be checked and advised by CPA, VC alumni , certified analyst, lawyers, not just blockchain engineers, and licensed architect. Although Zweiclub aims to set listing qualification as higher than those of NASDAQ and other traditional and digital exchanges, it will not be accessible from U.S. for the time being.
Token for 2022 Spring;
ZVST: utility token for metaverse https://en.zweispace.co.jp/ZVST-token/
NMZ: earthquake related application token https://en.zweispace.co.jp/NMZ-token/
ZWC: native unit of Zweichain
OMT: omotenashi survey https://en.zweispace.co.jp/OMT-token/
FAB: fabric project https://en.zweispace.co.jp/FAB-token/
DJC: prediction market for politics https://en.zweispace.co.jp/DJC-token/
2022 Spring batch for 2022 Summer production;
MOT: motor, new industry https://en.zweispace.co.jp/MOT-token/
SOIL: soil, club https://en.zweispace.co.jp/SOIL-token/
MUS: muse, new industry https://en.zweispace.co.jp/MUS-token/
CO2: CO2 system for SDGs https://en.zweispace.co.jp/CO2-token/
and 3 more to be selected
Not just SDGs projects are running on Zweichain, gas cost of Zweichain is minimal and negligible, unlike other existing blockchains. Although energy efficiency of the blockchain industry is a major pain point for most global enterprises, Zweichain is energy efficient, and keeps creating industry leading technologies with multiple blockchain patents already granted and with its pipeline.
Zweichain's server nodes are in seven countries, in foundation and university. It's functions and features are already exceeding top blockchain technologies.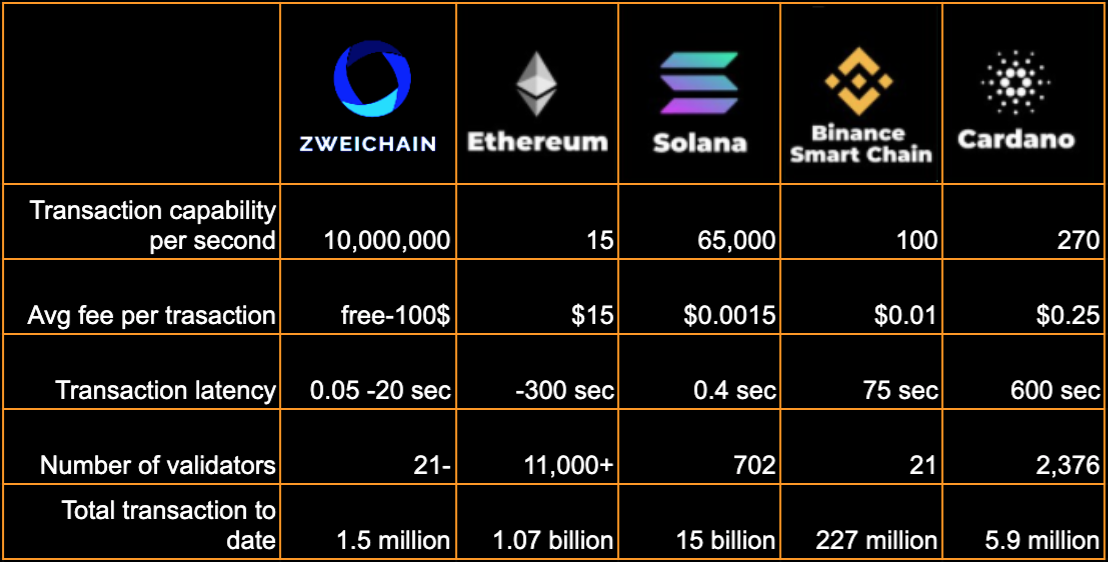 <Zweichain Connection Info>
https://en.zweispace.co.jp/zweichain-info/
ZWEINOTE-TokyoPresi series. 109 million dollars. Purchased owner of the NFT, will be invited to real estate blockchain and metaverse projects. Part of the income will go to the charity project for restaurants and artists.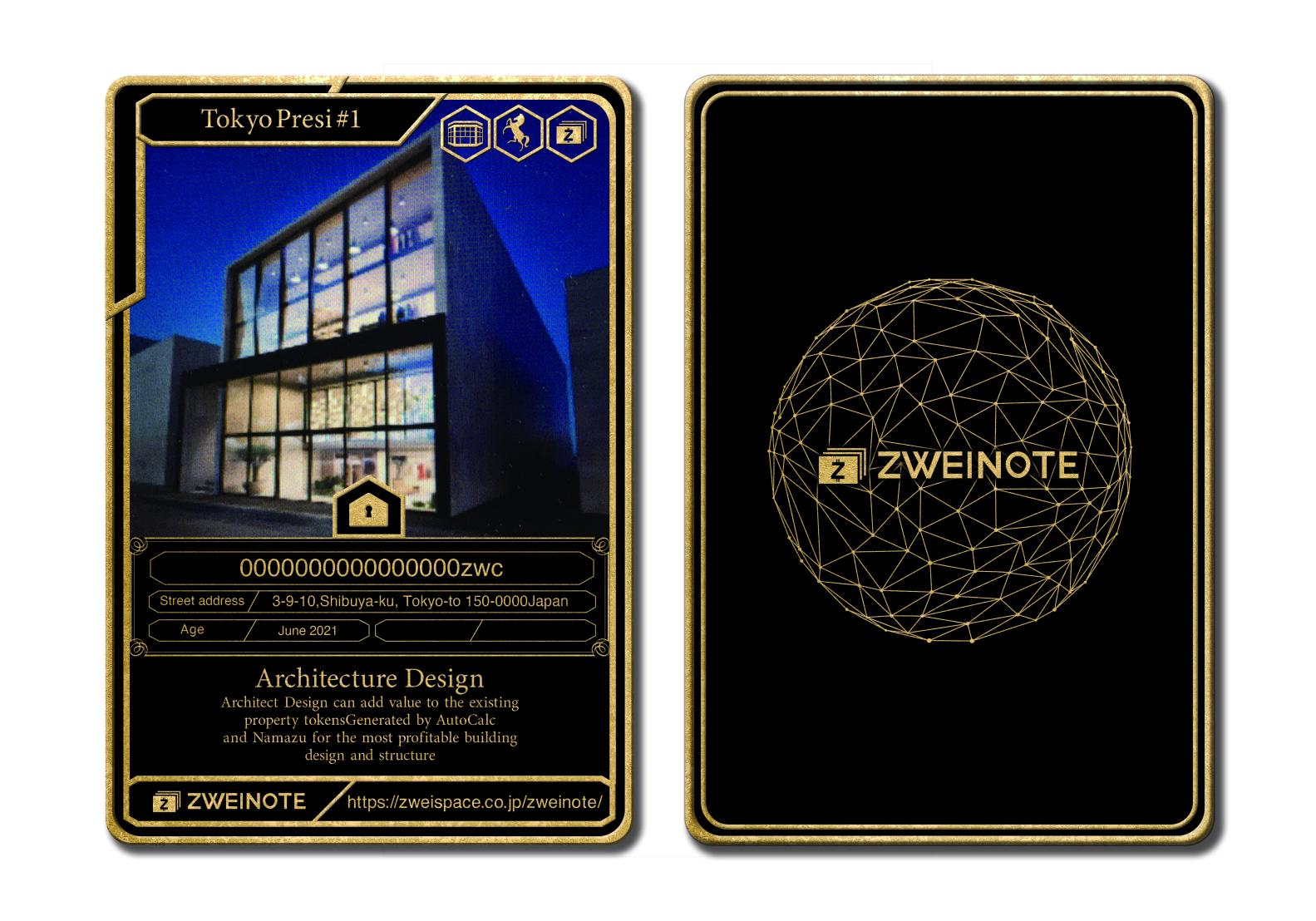 NFT name : TokyoPresi #1 ( Commercial Real Estate )
NFT package price : 109 million USD equivalent.
package includes;
– Registration to real estate blockchain
– NFT
– Freehold real estate registered and certified by Japanese government
– Invitation to Zweispace patented and awarded app and projects
– Invitation to Global VIP party
– Invitation to apparel industry project " fabric "
– Installation of BentoDAO charity project special edition art
– other benefits disclosed after purchase
NFT is a record on blockchain, of the transfer history of the owner account of a digital information, and the location of the file, usually on a server or servers, connected to or among the internet.
Commercial Real Estate is evaluated by following criteria in Japan.
Ref: Real Estate Appraiser Standard by Ministry of Land, Infrastructure, Transport and Tourism https://www.mlit.go.jp/common/001204083.pdf
page 12
q)
< Translated by online Google Translator Software >
2. In addition to the regional factors listed in, the main regional factors peculiar to
(1) State of type, scale, degree of integration, etc. of commercial facilities or business facilities
(2) Commercial hinterland and quality and quantity of customers
(3) State of transportation for customers and employees
(4) Convenience of loading and unloading products
(5) Conditions such as street migration and arcades
(6) Type of business and state of competition
(7) The creativity and financial resources of the managers in the area
(8) Degree of prosperity and trend of ups and downs
(9) Maintenance of parking facilities
(10) Degree of administrative subsidies and regulations
(q
Among these, we are waiting for inquiries from creative people regarding the utilization of Metaverse and their own business and investment activities related to "(7) The creativity and financial resources of the managers in the area ".
Since the process is in line with the regulations of real estate transactions under the usual international rules, we will conduct KYC and ALM or anti-money laundering checks, and other due diligence. People from countries affected by Sanction are not allowed to participate. Thank you in advance for your understanding.
In addition, for those who are in the real estate leasing business operating during Covid-19, for those who purchased commercial real estate in the main area of ​​Tokyo after January 2020, We are producing NFTs using our patented proprietary system and real estate blockchain. Please contact us for details on overseas properties and ones in other areas.
For inquiries regarding purchases, NFT production of commercial real estate, etc., click here https://en.zweispace.co.jp/contact/
Reference: related press releases
Other topics
HEIJO upgrade
ZWEICLUB professionals
ZweiMedia
Namazu
Robot Architect
Fabric Contest
HEIJO upgrade
Best of industry chain
https://media.zweispace.com/tag/zweispace
or download Zwei Media App for points and earthquake reward tokens
Zweispace
+81 50-5534-4331